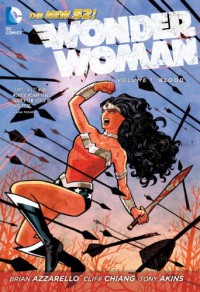 This is the new Wonder Woman, from the New 52. She's got a new costume, a new history, although i can't speak to how true it is to the old backstory. After all, I'm a Marvel girl, not so much a DC girl, but the New 52 has impressed me so far. (I've read some of the Batman and Superman titles, as well.)
The authors work well together, weaving a story that includes not just the Amazons but the Greek gods as well. When Zeus goes missing, and Hera trying to kill the mother of Zeus' latest bastard, Diana gets stuck in the middle. Along the way, the myth that she was created from clay is debunked - which only ends up putting her even more at odds with her Amazonian sisters, and somehow stuck in the middle far more than she'd been before.
The amazing story, and the crisp characterizations, are bolstered by art that is top notch. Add to this the fact that she looks real as compared to other comic women, and I'm in awe. Its not that she isn't an idealized figure - but rather that she has heft to her: she has meat on her bones, and looks like she can fit all her internal organs into her body.
I'm so glad I picked up volumes two and three at the library along with this volume!