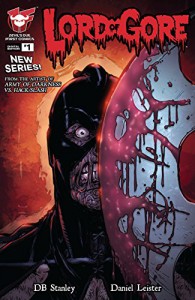 For all that, I enjoyed this series. Lord of Gore follows a horror movie franchise, the actors, writer and director behind it, and convenes at a horror convention for this franchise. It makes sense: the fans as well as the major players are there, which means a lot of potential mayhem - and slasher victims. It also means that everyone is together. It's not, oh, just a day that the writer is on set. Still, I've seen this type of thing done before, and this wasn't that original a take.
The real life drama takes forefront for most of this issue, and the horror aspects are brought in late in the game, to a skeptical member. Still, it seems as if there's some merit when the guy passing on the secrets? Well, he's run over. Something is going on, because, really? That wasn't just some hit and run. The timing is too suspicious, and this is a comic book.
Another grab bag issue. Not perfect. I enjoyed the story and the faux history of the Lord of Gore at the back. I thought the dramatics were a little over the top, and overshadowed the horror aspects, which I was hoping for in this issue. We get a hint, but I wanted more. I didn't really care enough about these characters to really feel anything about all the dramatics, so there's that.
I'm going to try and track down issue two, and give it at least that long to really get started, because I really enjoyed the faux horror movie franchise plot - you get a lot of that - and the horror aspects hinted at seem like they have some real potential.